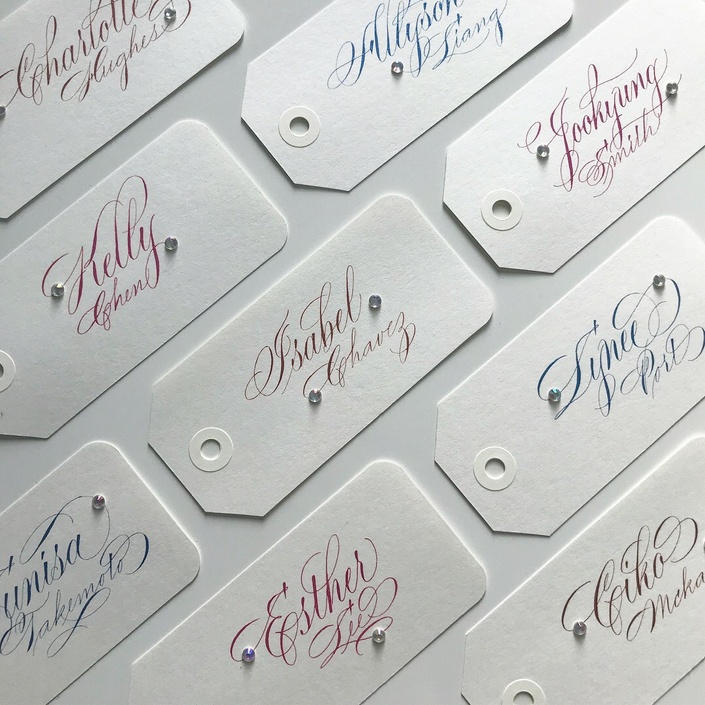 Fearless Flourishing Dec 2019
Learn how to add charm and beauty to your letters through flourishing!
You've admired all the beautiful flourished words/pieces on Instagram, and if you are anything like me 4 years ago, you are ITCHING to try, but don't know where to start! Good news - there is a method to the madness. If done correctly, flourishing can instantly add elegance and elevate your lettering.
Now is your chance to learn! After years of practicing, playing with how line intersect, and teaching students in person, I'm excited to bring this course, right to your home. Through this Fearless Flourishing online course, I hope to pass on my absolute love for flourishing as I walk you through all the basic concepts, demonstrate letter variations, show you the beauty of ovals & more so that you will leave with a trained eye and be inspired to start flourishing with confidence!
WHAT'S INCLUDED IN THE COURSE?
This course is made up of 4 teaching modules, with individual lessons within each module. Including all the bonus videos, there are over 20 video lessons provided for you! Each lesson will have a video as well as a written component for you to follow along.

---

-Course Curriculum-

MODULE 1 - Introduction to Flourishing
Lesson 1.1 - What is a Flourish?
Lesson 1.2 - Basic Rules to Flourishing
Lesson 1.3 - Warm Up Drills
Lesson 1.4 - Four Types of Flourishes

MODULE 2 - Lowercase Letter Flourishes
Lesson 2.1 - Ascending Stem Loops (b,d,f,h,k,l)
Lesson 2.2 - Descending Stem Loops ( (f, g, j, p, q, y, z)
Lesson 2.3 - End Flourishes
Lesson 2.4 - Letters without Loops & Understanding Negative Space
Lesson 2.5 - Connecting letters with a flourish/crossbar

MODULE 3 - Uppercase Letter Flourishes
Lesson 3.1 - Capital Stem Variations
Lesson 3.2 - Entrance Stroke Variations
Lesson 3.3 - DEMO: Group 1A - Letters that start with a Capital Stem (A, M, N, I, J)
Lesson 3.4 - DEMO: Group 1B - Letters that start with a Capital Stem (P, B, R, I ,F, D)
Lesson 3.5 - DEMO: Group 2 - Letters that start with a Horizontal Oval Entrance Stroke (S, L, G, C, E, O)
Lesson 3.6 - DEMO: Group 3 - Letters that start with a Vertical Oval Entrance Stroke (Z, U, X, Y, Q)
Lesson 3.7 - DEMO: Group 4 - Letters that start with Compound Curve Entrance Stroke (V, W, H, K)
Lesson 3.8 - Combining Uppercase/Lowercase flourishes. Feedback on Student Examples
MODULE 4 - Ornamental Design
Lesson 4.1 - What is ornamental design?
Lesson 4.2 - Drawing florals, wheat, leaves
Lesson 4.3 - Adding simple ornamental design to names

MODULE 5 - FINAL WORDS

---
-Homework Exercises, Scans, Instructional Workbook-

Not only do you have lifetime access to all the instructional videos, you will be given 40+ pages of instructional workbook/course scans/homework exercises. The suggested homework exercises are given after each Module for you to apply what you learned onto paper.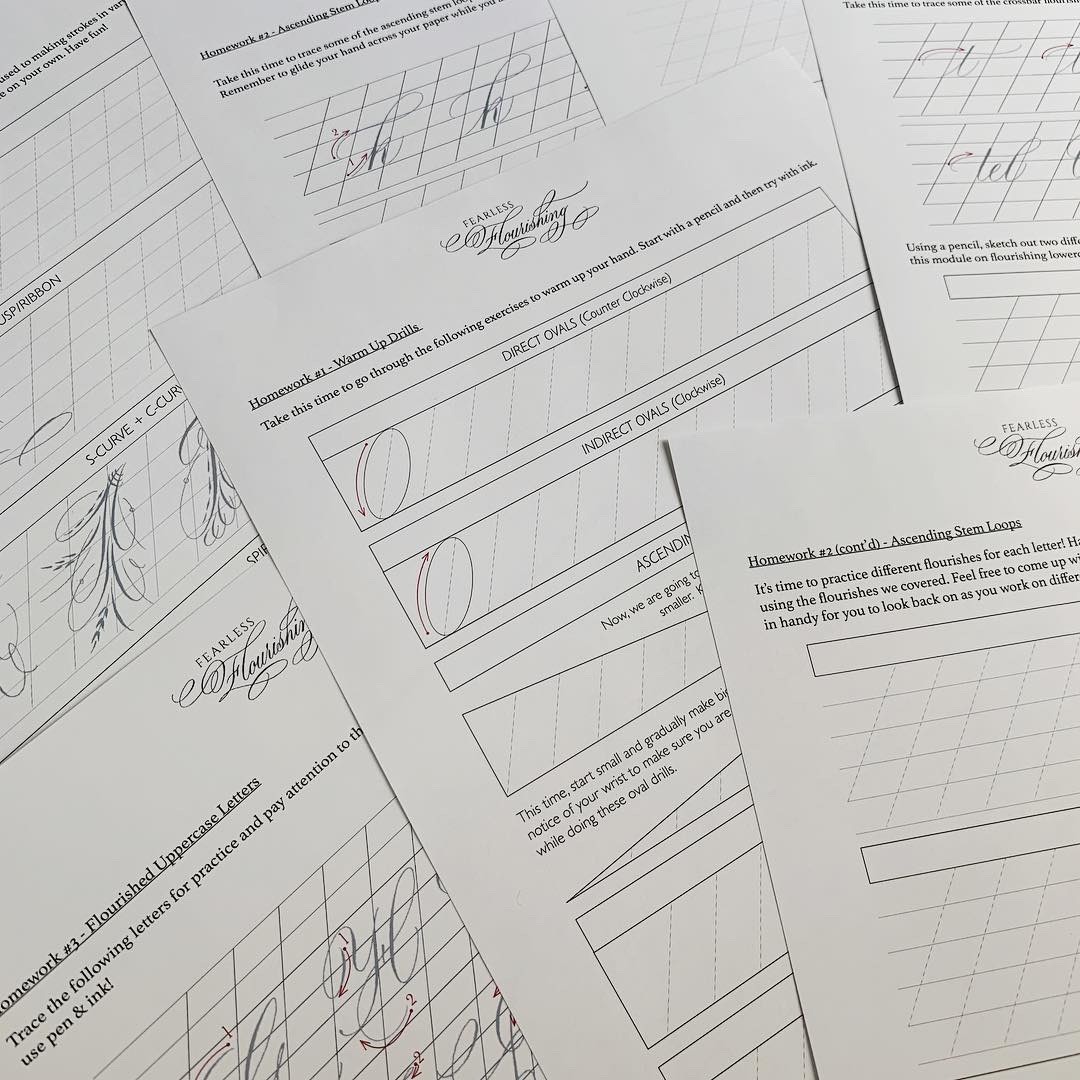 -BONUS VIDEOS-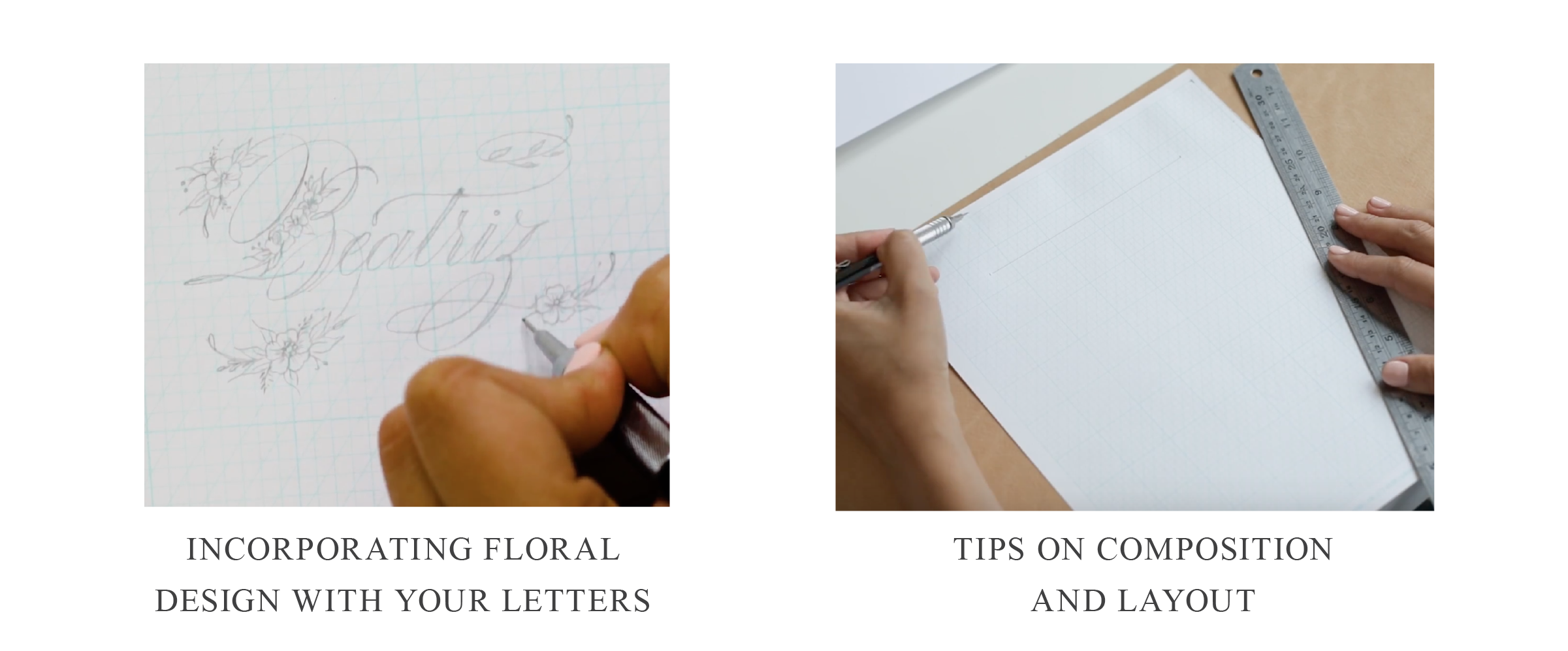 I'll also be including 2 BONUS instructional videos for this course! In the first lesson, we will walk through how to incorporate florals/leaves within your letters and in the second lesson, I'll be sharing some basic tips on composition/layout as we design a short quote together: "Believe you can and you're halfway there" - Theodore Roosevelt

-MATERIALS NEEDED-
The following is a recommended list of materials you will need for the course:
A Pencil & Eraser - Any brand is fine!
Pen Holder - I personally write with an oblique, but if you prefer the straight, that's fine! A good starter holder is the Dual Workshop Holder ($6.49) or the Moblique holder
Paper to print guidesheets on. HP Premium32 is a good one, but if that's not available in your country, use any smooth paper that takes ink well without bleeding! You can also use Borden & Riley #37 Marker Layout Paper or Borden & Riley Cotton Comp Paper on top of your guidesheet.
Ink - My favorite is the Moon Palace Sumi Ink.
Pointed, flexible nib - Use whatever nib you are most comfortable with. I personally enjoy writing with a Hunt 22, Nikko G, Leonardt Principal EF
Computer/Laptop with Wifi - The course videos can only be accessible through a browser and internet access.

Downloading/sharing/recording the videos is strictly prohibited

Printer - I will be providing scans, worksheets, homework exercises that you can print out at home. You may want to put them in protective sheets in a binder for your self study!
*Good to Have* - Copperplate Graph Pad. I use it for designing, sketching and highly recommend getting one that you can use for the bonus videos! Both John Neal and Paper Ink Arts carry them!

If you need to purchase supplies online, I have a teacher page set up through John Neal (under "Favorites") and Paper Ink Arts. They ship worldwide!
- STUDENT TESTIMONIALS -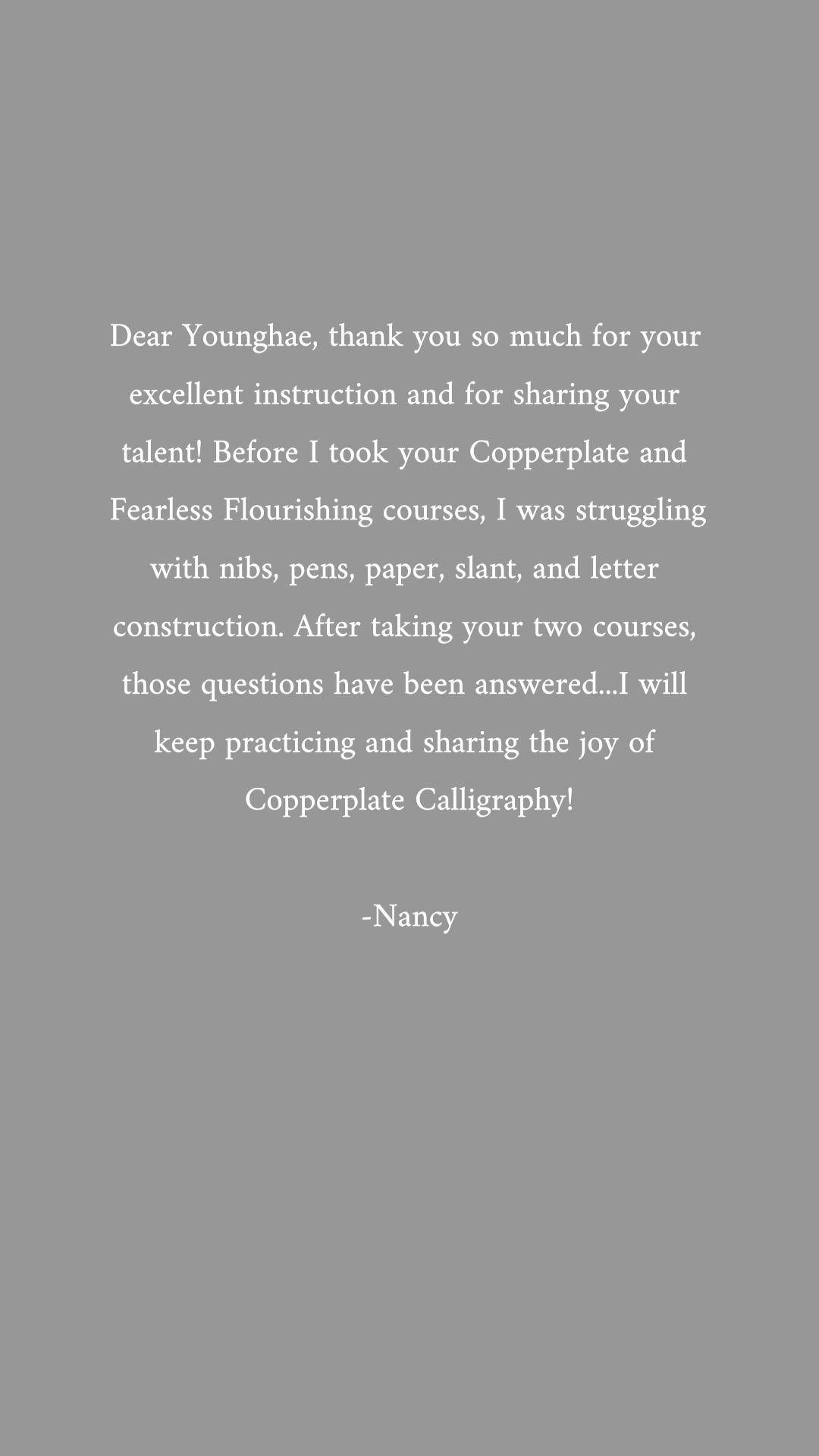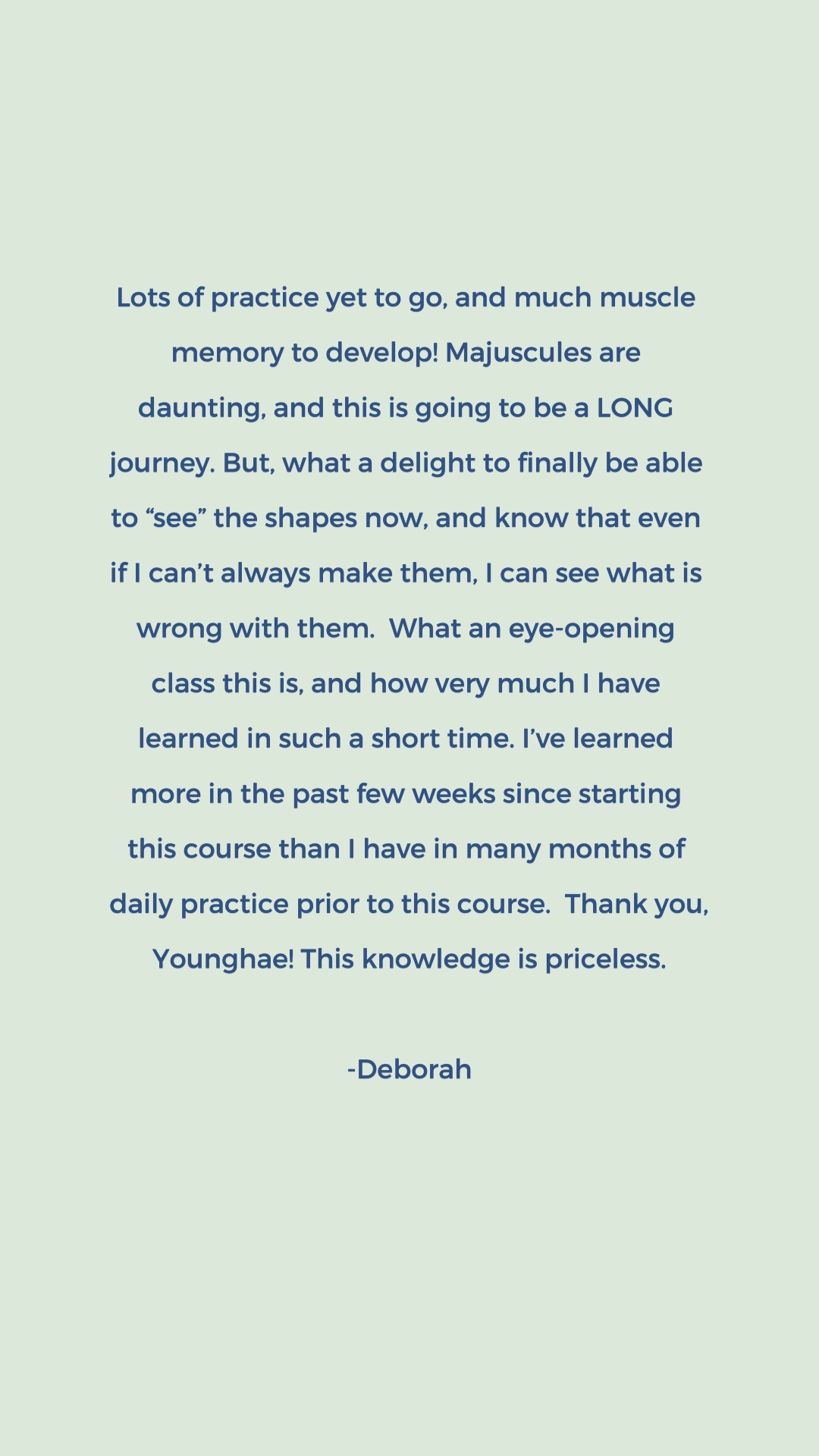 Your Instructor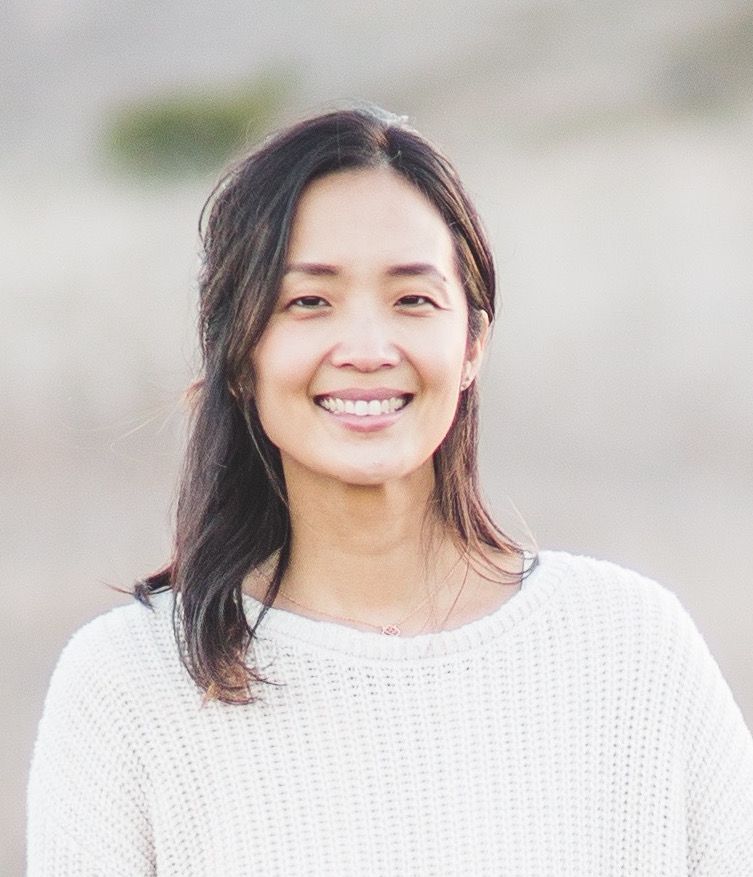 Hi! I'm Younghae of Logos Calligraphy & Design and I'm so excited to be part of your journey! I picked up Copperplate calligraphy in 2014 and since then, have continued my studies by learning under various master penmen/instructors as well as through my own personal practice times and commissioned work.
One of the reasons why I love teaching this script is not only because of the elegance, but the versatility of Copperplate. You can incorporate it into wedding invitation design, envelope addressing, marriage certificates, custom prints, logo design, and more!
After teaching thousands of students locally here in Southern California and online through Modern Calligraphy Summit 2.0, I'm thrilled to offer this course to you worldwide so you can learn from the comforts of your home. I'm looking forward to having you in class <3
Frequently Asked Questions
When does the course start and finish?
The course will officially launch December 9, 2019, but it is a completely self-paced online course so there is no end date! Lessons will be released weekly over the course of 7 weeks. I completely understand that life happens and schedules can change, so you get to decide when to start and finish after you register. However, for those who thrive on accountability and desire to learn in community, I will be providing a recommended course schedule and guide you through the course.
How long do I have access to the course?
After enrolling, you will have LIFETIME access to this course for as long as it exists.
Will there be handouts included?
Absolutely! Not only will you get scanned images of the exact letters I demonstrated throughout the course, I will be providing handouts that you can print and use for your self study.
Will you be providing individual feedback?
To keep the cost of the course reasonable, I am unable to provide individual feedback. However, there are plenty of ways to engage with me and your classmates through our forums/discussion boards. After each Module, there will be a place for you to post your work as well as a "Questions?" section where I will help address any questions you may have!
Is this a beginner-friendly course?
This course is not geared towards beginners, but students at an intermediate level. Students should have experience writing with a pointed pen. Having Copperplate calligraphy background will be helpful as I will be demonstrating off the Copperplate letterforms; however, students with modern calligraphy background or Spencerian background will also benefit from this course. The concepts and examples that we will cover can be easily adapted to your own writing style! If you are a complete beginner, I would recommend checking out my comprehensive "Learn Copperplate Calligraphy" course at http://www.learncopperplatecalligraphy.com
This course is closed for enrollment.